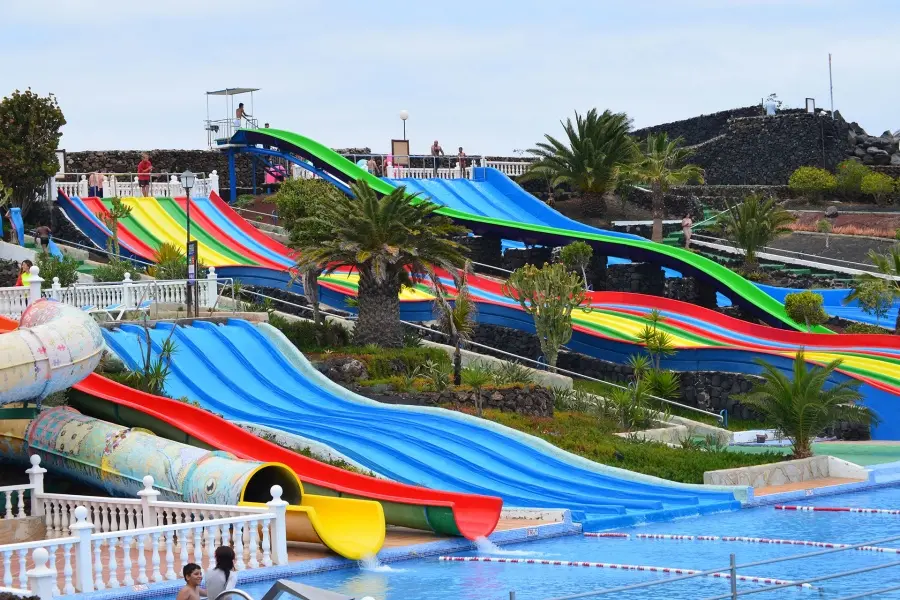 Lanzarote water parks to choose from
There are two water parks in Lanzarote one in Costa Teguise which is the biggest of the Lanzarote waterparks and a modern new waterpark in Playa Blanca which although is smaller is an incredible day out and the only Lanzarote water park with a wave pool.
The waterparks in Lanzarote are by no means the biggest you will have seen if you have been to waterparks before, but they have everything you need for a fantastic day out sliding around, relaxing and having fun. Whilst these two Lanzarote waterparks are just that there is a hidden secret in Lanzarote where you can combine a day out at the Lanzarote and enjoy all the fun of a water park in Lanzarote at Rancho Texas but we will tell you more about that in a while.
The No1 Lanzarote waterpark is Aquapark Costa Teguise
The Costa Teguise Aquapark is the longest established waterpark in Lanzarote and has many slides for all ages and heights. They have everything from fast scream out load slides to more chilled slides that will cause a splash. With everything you need on-site and restaurants, sunbeds and bar areas you can choose to chill out and relax or get yourself up and down on the many slides and activities they have on offer. With pick up offered from Puerto Del Carmen and Playa Blanca and a free drink on arrival (and a snack for Playa Blanca clients). The Costa Teguise Lanzarote waterpark is certainly value for money. This Lanzarote water park is only open in the summer months and usually closed around October to May if you visit Lanzarote in the winter months then you can still have a day out at a Lanzarote water park by heading to Aqua Lava Lanzarote water park in Playa Blanca.
What things can you do at the Aquapark Waterpark Lanzarote?
Return bus to and from the Lanzarote waterpark
If you are staying in Costa Teguise where the water park is based then all you need to do is get an official Aquapark Lanzarote waterpark ticketfrom us and make your own way to the park, just select I will go direct. This will not only save you money but time too as you will be able to head straight in without waiting around and organising money like everyone else. If you are staying in Puerto Del Carmen or Playa Blanca don't worry you can still visit the biggest Lanzarote water park as they offer a bus service that you can book with us and we will arrange for the driver to pick you up at or close to your accommodation. We will send you all the information you need with a time and place for pick up. Of cause, the bus is a return and after a full day at the Aquapark waterpark Lanzarote you will be dropped back to where we collected you.
Rides and slides at the Aquapark Costa Teguise
There's a number of amazing slides at the Aquapark Costa Teguise these include
The Aquapark Costa Teguise Kamikaze
A sheer drop and the only kamikaze slide out of the Lanzarote waterparks, dare you to go down it? It's super fast and so much fun. We don't know how high this Lanzarote waterpark slide is but the views at the top are intense. Oh by the way at this Lanzarote water park, there isn't just one kamikaze but two. One is called the super kamikaze so we will let you discover which one is the fastest.
Other slides at the Costa Teguise Lanzarote water park
There's a lot in fact there are over 15 different slides to choose from and that's not including all of the pools and jacuzzis there are to offer here's a list of all the slides and height restrictions of the slides at the Aquapark Costa Teguise.
Lanzarote waterpark slides for adults/big kids and those over 1.2 meters
All the waterparks in Lanzarote and in fact around the world have height restrictions but there is nothing worse than promising the kids some rides to only find they are not tall enough the slides below at the Aquapark Lanzarote you must be at least 1.2m in height
Spiral
Toboggan slides
Kamikaze
Soft slides
Rio Rapids
Turbo Lancha
Aqualnacha
Super Kamikaze
Slides at the Aquapark Costa Teguise for children and those below 1.2 meters in height
Children's lake
Children's splash zone with smaller slides
Lago lake
Aqua racer
You need to be 1.4 meters and above to ride these Lanzarote waterpark slides
These are fast and furious and have large drops and are just awesome. There are also restaurants on-site, lots of changing facilities, lockers for you, and sunbeds to chill out and relax. There are huge pools to cool off in and jacuzzis to really let yourself go and people watch all day.
Aqualava Playa Blanca Lanzarote waterpark
The newest waterpark in Lanzarote is theAqua Lava Playa Blanca and this is the only waterpark in Lanzarote with a wave pool. It is a modern water park in Lanzarote that hosts a range of slides, and a lazy river and has the only wave pool on the island. With free wifi, sunbeds, and an excellent snack bar your day there will be one of fun, laughter, and relaxation. They offer to pick you up from Puerto Del Carmen and Costa Teguise and drop you off.
What can you expect from a day out at the Aqualava Lanzarote waterpark?
Based in Playa Blanca and offering free bus service from Puerto Del Carmen and Costa Teguise and open all year round makes this one of the most popular choices for people looking for waterparks in Lanzarote. In this Lanzarote waterpark, you will feel comfortable relaxing while the kids head off for the day as they will always be close by.
Slides at the Aqua Lava Lanzarote waterpark for 1.2 meters and above
Whilst not as many slides as the Costa Teguise waterpark there are enough to keep all ages entertained for those 1.2 meters and above there is a section in the Aqualava waterpark called Timan Fire. It has five huge slides and one with a mega spiral at the bottom which is like a giant toilet flush. It's so much fun to ride and so much fun to watch people dropping out of the bottom. The other four Lanzarote waterpark slides here are hoops, loops, fast drops, and double floats and are great for all ages over 1.2 meters
Aqualava waterpark is ideal for small kids below 1.2 meters
For those below 1.2 meters, there is Corsario Bay which has a super fun selection of smaller slides, ramps a giant octopus, and a huge bucket that fills up and splashes you. This is the ideal place for smaller kids and parents as there are sunbeds around Corsario Bay where adults can chill out and watch the kids have fun in peace.
The only Lanzarote waterpark with a wave pool
Known as Aqualava Beach at set times throughout the day you will find everyone in the giant wave pool bobbing around and having the time of their lives. Out of the Lanzarote water parks, this is the only place you can experience a giant wave pool on the island, and it's so much fun.
The Magma River at the Aqualava Playa Blanca waterpark
Another great addition and something else which makes Aqualava unique out of the other waterparks in Lanzarote is the huge Magma River or as most people call the Lazy River. Grab an inflatable for one or two people and just lie back as it takes you floating around the Aqualava water park.
A Lanzarote waterpark with heated pools
As the Aqua Lava waterpark is open all year round the pools and water is heated by the sun, which makes this also the only Lanzarote waterpark with heated water. Now don't expect to be getting into super warm water it is still a bit chilly, especially in the winter but the system they have in place certainly takes the edge off.
On-site you will also find a restaurant and snack bar, loads of sunbeds, lockers, and changing facilities so for an all-year-round Lanzarote water park experience the Aqua Lava waterpark is a great choice.
Rancho Texas Lanzarote animal and splash park
Whilst this isn't classed as a Lanzarote waterpark as it's the only animal park on the island, it also has two water slides dropping from the mountains, a huge chill-out pool, a splash zone for the kids, and much more. So if you fancy spending a day seeing the incredible animals and shows and having a splash around the Rancho Texas Lanzarote could be for you.
This is also open all year round making it an ideal option if you want to do a Lanzarote water park and you also fancy seeing the dolphin show, the sea lions, and many more amazing animals. As value for money, this really is amazing as you get a full day with the added benefit of a mini Lanzarote water park day out too.
Looking for waterparks near me in Lanzarote?
So if your main question when you arrive in Lanzarote is "show me waterparks near me" then you will be more than likely shown this page which has all of the waterparks in Lanzarote and more so you really are spoilt for choice if you want to spend a day at a waterpark in Lanzarote.
How to get tickets to water parks in Lanzarote
We provide official Lanzarote water park tickets for all of the Lanzarote waterparks. All you need to do is decide which of the Lanzarote waterparks you want to visit, if you are in the same resort-like Costa Teguise for Aquapark Lanzarote or Playa Blanca for Aqua Lava then select go direct and we will send you an instant ticket to save you time and money at the gate. If you need a bus pick up you must book a Lanzarote waterpark ticket and we will send you the time and place for pick-up at or close by your accommodation. Lanzarote waterparks are an awesome addition to your holiday and a great way to spend a day without missing out on that tan.
Frequently asked questions about Lanzarote Waterparks
What is the best waterpark in Lanzarote?
There are two water parks in Lanzarote Aqua park in Costa Teguise for bigger slides and children over 120cm and Playa Blanca's Aqua Lava for wave pool and smaller children.
Do Lanzarote waterparks have lockers?
All waterparks in Lanzarote offer locker facilities that you can rent or pay for with a returnable deposit.
Is Rancho Texas Lanzarote a waterpark?
Rancho Texas whilst not classed as a water park is one of the best parks in Lanzarote and it does have a huge pool with two giant slides so does essentially have a small watrpark in Lanzarote.
Can you buy food in the waterparks in Lanzarote?
All Lanzarote waterparks have restaurants for food and drink and most are reasonably priced too.
Can you take your own food and drink into Lanzarote waterparks?
Taking your own food and drink into Lanzarote waterparks is not permitted some parks will do random checks at the gate and ask you to leave or discard any food and drink.
Do I need to book waterparks in Lanzarote?
You can take the risk and go directly to the park and pay at the gate, however since changes there are limited spaces each day and sometimes the park is full and you will be asked to try another day. Booking advanced tickets is advised.