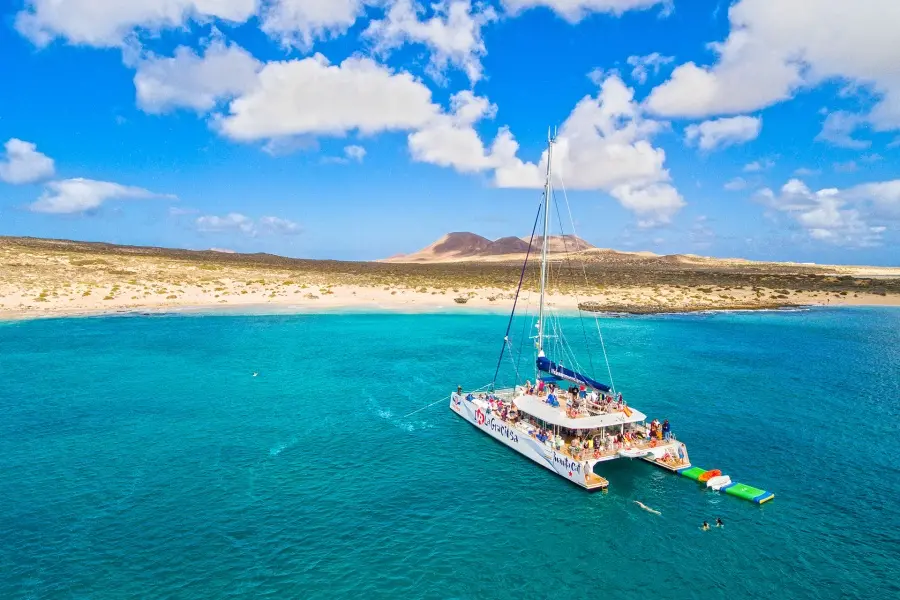 Who is Lineas Romero?
Lineas Romero is the leading and the largest supplier of boat tours and boat excursions in Lanzarote. They have a fleet of different boats, farries, and catamarans to assure you get the best out of your chosen Lanzarote boat trips.
The Lineas Romero fleet has been operating for over 50 years in La Graciosa and is the number one ferry service for trips between Lanzarote and Fuerteventura. Following the huge success of Lineas Romero, they opened a fleet of boat trips in Lanzarote with a huge array of things to do on the sea.
What boat trips do Linease Romero Lanzarote offer?
Specialing in Lanzarote ferries with crossings between Lanzarote and Fuerteventura and Lanzarote to La Graciosa, Lineas Romero did not stop there. They bought brand new catamarans for the island and taxi boats and have so many different ways for you to get out on the sea and take a Lanzarote boat trip.
Lineas Romero and their catamarans
If you want to be blown away by quality then you must take part in one of the Lineas Romero catamaran excursions. These catamarans are the biggest and the newest Lanzarote catamarans and with an amazing crew, you can be assured of the best catamaran cruise in Lanzarote.
I Love Graciosa by Lineas Romero
This is the flagship excursion for Lineas Romero as it's on the island of La Graciosa where Lineas Romero was born. The I Love Graciosa excursion is just amazing, they will pick you up on a fully airconditioned bus and take you North to Orzola where you will cross on one of the Lineas Romero Graciosa ferries to a magical island unspoiled by tourism. From here the I Love Graciosa Lineas Romero catamaran will be waiting for you to take you out on the ocean and around this stunning island for an all-inclusive 5-hour sailing experience. You will also get plenty of time to explore La Graciosa and see this incredible island. Book your Lineas Romeo Graciosa catamaran here.
Lineas Romero Papagayo Catamaran
Part of the I Love brand I love Papagayo from Lineas Romero is a great way to sail the coast of Lanzarote to Papagayo bay to enjoy a 4-hour all-inclusive day out on the Lineas Romero I Love Papagayo excursion. As Lanzarote catamaran cruises go this is a must-do and you can book the I Love Papagayo most days but remember it does get sold out very fast.
Lineas Romero Ferry services
The Lineas Romero ferries are again pretty much brand new and purpose-built for tourists in Lanzarote as they are foot passenger ferries and are so comfortable and spacious. They still have that "new boat" smell just like a new car.
Ferry from Lanzarote to Fuerteventura with Lineas Romero
To get from Lanzarote to Fuerteventura you can take one of the three ferries, the other two are for cars and are very industrial but the Lineas Romero ferry is made just for people visiting the island and has a top deck, an inside with comfortable seating and this is the only company on the island that also offers a free bus pickup so if you are in Puerto Del Carmen or Costa Teguise you can get the Lanzarote Fuerteventura bus pick up with Lineas Romero. If you are in Playa Blanca you can make your way to the harbor and take the Linease Romero ferry to Fuerteventura.
Lineas Romero Ferry to La Graciosa
If you visit La Graciosa you will see Lineas Romero everywhere, this family-run business was born and raised on the island of La Graciosa and Lineas Romero plays a major role on the island. Their ferry from Lanzarote to Graciosa is spacious and modern and again they also offer a free bus pick up so you don't have to worry about getting to Orzola in the north if you don't have a car. You can book direct Graciosa ferry tickets or with Free bus pick up on our Discover La Graciosa product.
The Lineas Romero Puerto Del Carmen Puerto Calero taxi boat
This is a very well know taxi boat in Lanzarote that goes between Puerto Del Carmen and Puerto Caleo and is a great way to get a quick boat trip and see the two places. Its owned and operated by Lineas Romero so you know the service and the quality are going to be excellent. Lanzarote taxi boat tickets can be booked with us and they are open tickets meaning you can go on whatever day and whatever crossing you want to.
The new Lineas Romero Lanzarote sunset cruise
A new addition to the Lineas Romero portfolio of excursions is the amazing sunset cruise by Catamaran that departs from Puerto Del Carmen. Sunsets in Lanzarote are best experienced out at sea and on one of the Lineas Romero catamarans, you cannot go wrong. They go a couple of days in the week and this Lanzarote boat trip is very popular so book your Lanzarote sunset cruise fast.
How to book your Lineas Romero boat trips
As an official partner of Lineas Romero and having worked with them for many years we are proud and confident to offer their incredible experiences. To book just select the Lineas Romero boat trip you want and check out. We will do the rest and send you all the information you need and then you will be in the capable hands of Lineas Romero and their team who will assure you an amazing day out at sea.
Frequently asked questions about Lineas Romero