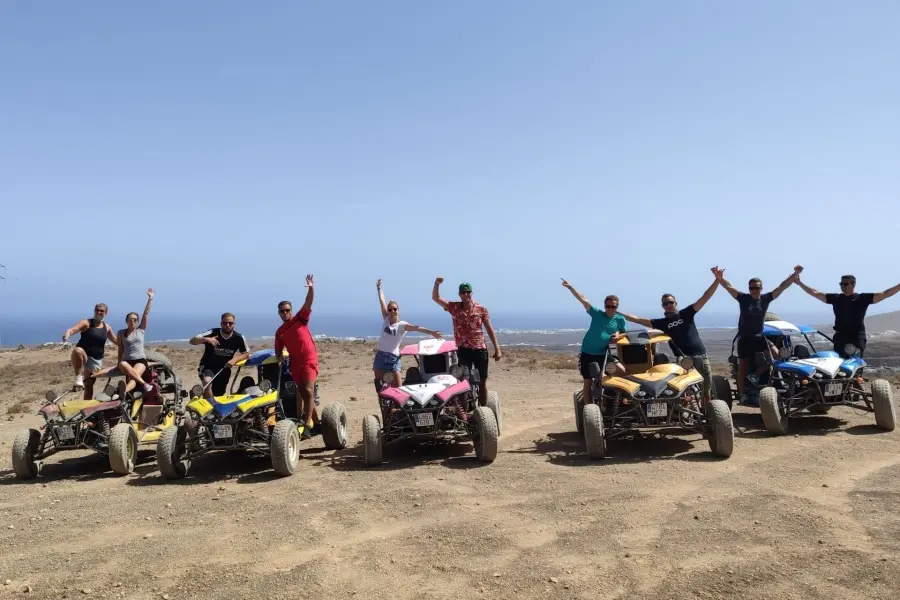 Buggy Lanzarote tours and so much more
In Lanzarote, there are many ways to see the island but here at TravelON World we have not only found you the best buggy Lanzarote tours but also some amazing vehicles like the Lanzarote trikes and Lanzarote slingshots which offer completely unique ways to see the island. Brand new is the Lanzarote quad tour on super fast double Lanzarote quads.
Buggy Lanzarote tours at the best prices
You must be over 18 and hold a full driving license for 2 years to drive be part of the buggy Lanzarote tour and drive the buggies on and off-road, each Lanzarote buggy takes 2 people and the price you pay is per buggy. There are normal buggies to chose from which are standard power and suitable for all drivers and there are the super fast Lanzarote buggies which are 200cc and you must be over 21 to drive them. For the normal 50cc Lanzarote buggies or the super buggies Lanzarote, both offer you an amazing buggy Lanzarote adventure.
New Quads Lanzarote style
Quad rental in Lanzarote is possible in some places but why rent when you can be taken on an off-road adventure with Lanzarote quads. Brand new to the island Quads Lanzarote offers a unique adventure with super fast quads taking you on an amazing adventure around the island. All of these amazing vehicles and part of the buggy Lanzarote group who are experts in taking people around Lanzarote in some unique and awesome modes of transport. We highly recommend trying the new Quads Lanzarote
New 4-seater Lanzarote buggy volcano tours
If there are more than two of you or you only have one driver then taking a Lanzarote road tour to the volcanoes in these 4-seater buggies is the ideal solution for you. Not only are they super comfortable but they are powerful too and this gives you one of the best ways to explore the island and see the sites and even includes a small guided trek to some awesome caves and volcanoes. This Lanzarote buggy tour is not off-road but is so much fun. Book your Lanzarote buggy tour today!
Trike Tours Lanzarote
If a buggy Lanzarote tour is not your style and you fancy something even more special then take a look at the Lanzarote Trike Tour the freedom of a motorcycle with the comfort of a car and these take up to 3 people so even better if there are more of you in your group as again the prices are per Lanzarote trike. Unlike the buggy Lanzarote tour this excursion is on-road and will be smooth cruising as you drive through some beautiful places and villages.
Three-wheeled Slingshot buggy Lanzarote tour
These are brand new to Lanzarote and are incredible, they are called slingshots and are three-wheeled comfortable vehicles that are ideal to tour Lanzarote. The Lanza extreme slingshots take you on a tour of the island like no other. If you really want an awesome experience the tour Lanzarote by Slingshot is the one for you. Again part of the buggy Lanzarote tour group and unlike the buggy Lanzarote tour this is 100% on road and is such a dream to drive with the wind in your hair as you take in all the sights and sounds of Lanzarote.
Retro buggy Lanzarote tour
If there are more than two of you then why not check out the retro buggy Lanzarote tour not only are these buggies really cool to drive they hold up to 4 people so are extremely popular and such an amazing drive around the island.
How to book your buggy Lanzarote tours
Just select the date you want to go and how many vehicles you need, remember the buggies take 2 people and the price is per vehicle. You must be over 18 to drive the 50cc buggies Lanzarote and over 21 to drive the super 200cc Lanzarote buggies you must also be over 21 for the Lanzarote slingshots and the really cool Lanzaorte Trike tours for all you need a full driving license. Whatever Lanzarote buggy tour you choose you will have an incredible day.
Frequently asked questions about Quads trikes and buggy Lanzarote tours
Do I need a license for Lanzarote buggy tour?
You need to be over 18 years old to drive the normal Lanzarote buggies and over 21 to drive the super Lanzarote buggies. All buggy tours in Lanzarote require a full driving license.
Can I drive a Lanzarote buggy with a provincial driving license?
All lanzarote buggy tours and Lanzarote buggies require a full driving license and you must have passed your driving exam.
Can I hire a quad in Lanzarote?
Quad hire in Lanzarote is not avaiable you have to take part in a Lanzarote quad tour which is guided and safer.
How can I see Lanzarote other than a bus tour?
The bets way to see Lanzarote is by Lanzarote buggies, a Lanzarote quads tour or even take out the Lanzarote trikes or sling shots.
What age do children need to be to do Lanzarote buggies?
It is recommended that children be over 8 years old to be passengers of Lanzarote buggy tours.
How many people is it per buggy for a Lanzarote tour by buggy?
Each buggy is for 2 people and the price is charged per buggy.
Can we switch drivers on a Lanzarote buggy tour?
You can switch drivers on a Lanzarote buggy tour provided both have a full license. There may be an extra charge for insurance. On the Lanzarote quads tour you cannot switch drivers.